A Structure for All Seasons
It has been said that Bangor offers the best of all four seasons. It is true that our weather is beautiful in each season. However, our climate's diversity can be inconvenient when vehicles are exposed to the wind, sun, rain, sleet, and snow. An enclosed garage structure can be an ideal solution to protect cars, trucks, RVs, ATVs, motorcycles, bicycles, and more throughout all seasons.
A Custom Garage to Meet Your Needs
At Ron Bragg Carpentry, we work with our customers to build a garage to meet their individual needs. Whether your primary need includes additional storage space, housing for one vehicle or multiple vehicles, recreational vehicle housing, a woodworking shop, space for your gardening supplies, an area for pets or livestock, or a combination of purposes, we can build a garage to accommodate. Ron will work with you to create a design that is not only functional but is also visually appealing on your property.
Renovating Your Existing Garage
Ron Bragg Carpentry has over 20 years of experience, providing the expertise needed to renovate your existing garage. We have worked with clients on projects from garage additions to installing new overhead doors and everything in between. Our contractors enjoy creating custom solutions for our customers to maximize space, improve usability and increase efficiency. Our project portfolio can help you envision the perfect solutions for your needs.
Strict Requirements for Excellence
If your project calls for plumbing, heating, cooling, or electrical, be assured that we work with only the best. Our commitment to delivering your ideal finished garage includes those elements of the project that we subcontract to our trusted partners. We work only with licensed plumbing, heating, and electrical professionals who meet our strict requirements for excellence.
Our Promise to You
When you hire Ron Bragg Carpentry for your garage build or renovation, you can be assured that we will deliver:
A custom solution to meet your specific needs

A clear, comprehensive project plan and cost estimate delivered up-front.

Constant courteous communication throughout your project

Innovative ideas for storage, design, function, and efficiency

Friendly, dependable, and professional contractors who treat your home as they would their own

Quality construction materials

Knowledgeable, skilled contractors with complete attention to detail

Project completion on time and budget
Next Steps to Your Dream Garage
The next step to your dream garage is a call to Ron Bragg Carpentry at 207-570-4215. Ron will then schedule an appointment at your convenience to meet you at your home. He will take the time to answer each question and concern you may have.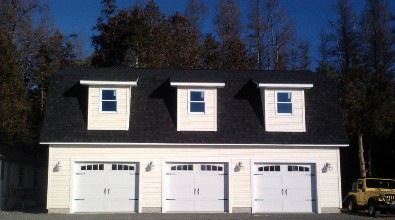 During your initial meeting, he will sit down with you, listen to your needs and your wishes for your garage structure, and inspect your existing garage or area where your new garage will be constructed. Ron will then put together a comprehensive proposal to deliver your review detailing the work to be completed, an estimated timeline, and a breakdown of estimated costs for your project.
When you contract Ron Bragg Carpentry for your garage project, you are working with the best. We will deliver a quality product that is functional, beautiful, and built with quality materials by experts. We are so confident that you will love your new garage that Ron Bragg Carpentry offers a 24-month craftsmanship guarantee.
Most other contractors do not offer such a bold promise, setting us apart from the rest. Contact Ron Bragg Carpentry at 207-570-4215 to schedule an initial consultation. Protect your assets during each of our beautiful seasons.