Huffington Post recently reported that one of the top home improvements you can make is to add a deck to your home to add value and enjoyment. A deck provides the opportunity to extend your living space to the outdoors allowing you to enjoy nature and breathe the fresh air. A well-crafted deck also provides great entertaining space for hosting social gatherings with family and friends.
Why Ron Bragg Carpentry to Build Your Custom Deck
If you are considering adding a deck or outdoor space to your home, you have come to the right place. At Ron Bragg Carpentry, our motto is that our decks are "Built to Last, Built to Enjoy!" We take great pride in the fact that we have added value and enjoyment to hundreds of homes in the Bangor area by constructing a quality deck to meet the specific needs of each homeowner. We have over 20 years of experience in all areas of home construction and improvement, including custom decks.
Hiring a Contractor vs DIY
Many homeowners think that a new deck is a great first-time DIY project. For homeowners with a background in construction, it might be a project they can tackle. However, a quality constructed deck that is safe for your family and friends is a bit more complicated than it seems.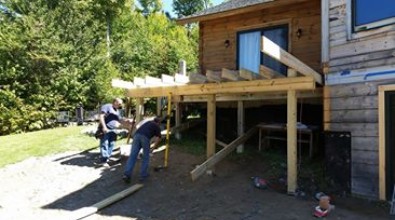 Foundation supports, railing, overhead structures such as pergolas for shade, sealants, decking materials, long-term maintenance, slope and many more factors must be considered when constructing your new outdoor space. These items that might appear daunting for a do-it-yourselfer are what we do at Ron Bragg Carpentry. We know the right way to build your deck so it is safe, easy to maintain and will last for many years to come.
Safety and Maintenance Considerations
Each deck constructed by Ron Bragg Carpentry is designed for ease of use and low maintenance. We utilize quality natural or composite construction materials designed to resist mildew, rot and insect infestation. We provide options to you as the homeowner for materials designed not to splinter and that are safer to walk on even in snowy and icy weather. We will also provide choices regarding finishes for your new deck that allow for lower maintenance and don't require re-staining or painting every few years. Ron's experience building decks over many years allow him to present options in such a way that you won't feel overwhelmed with decisions, just excited for your new deck project.
Make your Dreams for a New Deck a Reality
To make your dream for a new outdoor deck space a reality, give Ron Bragg Carpentry a call today at 207-570-4215. You will meet personally with the owner, Ron Bragg, at your home. Ron will inspect that area where you would like to place your new deck for slope and other factors.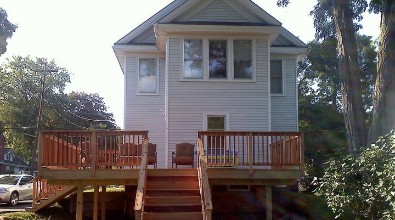 He will meet with you to discuss your goals for your deck and how you wish to utilize your deck space for fun and relaxation. Ron will then take your wishes and goals and transform those ideas into a comprehensive project plan detailing all of the construction elements of your new outdoor space, the project timeline and estimated costs for the project. Your deck will not only be functional to meet the needs of your family, it will also include an innovative design to blend perfectly with the design of your home. Instead of looking like an addition, your deck will seamlessly integrate with your home looking as if it has always been there, flowing perfectly into your lawn and landscape.