Your roof is one of the most vulnerable areas of your home. The sun, wind, rain or ice can all cause damage to your roof that can result in water leaks, increased energy costs, mold and mildew and structural damage in your attic. Ignoring needed roof repairs can result in significant repair costs in the future as well as health and safety risks.
Roof Repair and Replacement Services
Ron Bragg Carpentry specialized in roof repair and replacement services. We are a GAF Certified[tm] Weather Stopper[r] Roofing Contractor. We stay up-to-date on the latest roofing products and technologies, regularly participating in training and educational programs to deliver the most efficient solutions to our customers.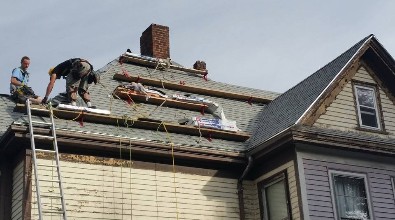 Ron Bragg Carpentry offers traditional shingles as well as metal or asphalt roofing products. In addition to repairing or replacing your roof, we install skylights and dormers, increasing natural light and updating the look of your home.
How Do I Know if I Need Roofing Repairs
Some signs that your roof may be damaged and in need of repair include noticeable discoloration of your shingles, missing shingles, cracked or curled shingles, roof leaks, and water spots on the ceiling or attic. The safest way to know whether you have damage to your roof that needs repair is to contact Ron Bragg Carpentry at 207-570-4215 for a free roof inspection. We will take a look at your roof and let you know if repairs are needed and provide recommendations for repair or replacement along with a written no obligation estimate.
Ron Bragg Carpentry Roofing Services
We make the following commitments to homeowners when providing roofing services:
We will be honest and reliable, only recommending needed repairs

We will be professional, courteous, reliable and productive while on your job site

We will clean up at the end of each work day, disposing of any trash and picking up any materials and tools

We will use only quality products and will work to obtain the best prices for our customers from our trusted suppliers

We will not cut corners or take shortcuts, ensuring the highest quality construction on your roof

We will deliver the finished product on budget and on time to the extent that the weather allows

We will be in constant communication with the homeowner and make the process as smooth as possible
To protect your roofing investment, Ron Bragg Carpentry offers the GAF Weather Stopper[r] System Plus Ltd Warranty. This warranty protects against any manufacturing defects and gives you the peace of mind that should any covered roofing component fail, you will be covered. This warranty protects you as the homeowner for up to 50 years.
Your Trusted, Proven Roofing Contractor
Ron Bragg Carpentry has built a reputation for being honest and providing quality work at a fair price. Ron Bragg and his crew of professionals have repaired and replaced roofs for homeowners throughout Maine. We are fully insured, and our employees are highly skilled and trained in quality roofing repair and installation. For an inspection of the roof of your home or an energy efficiency audit, give us a call today at Ron Bragg Carpentry 207-570-4215. We work with you to ensure that your home is efficient, safe and healthy.